All My Movies is an intuitive program that lets users keep track of the movies they own. The program's well-organized interface and many features make it a great choice for keeping your movie collection organized.
All My Movies is the best movie organizer available for a movie collector. Make your own movie catalog today! The program is Vista compatible. You can catalog your Blu-ray and HD DVD discs with All My Movies too!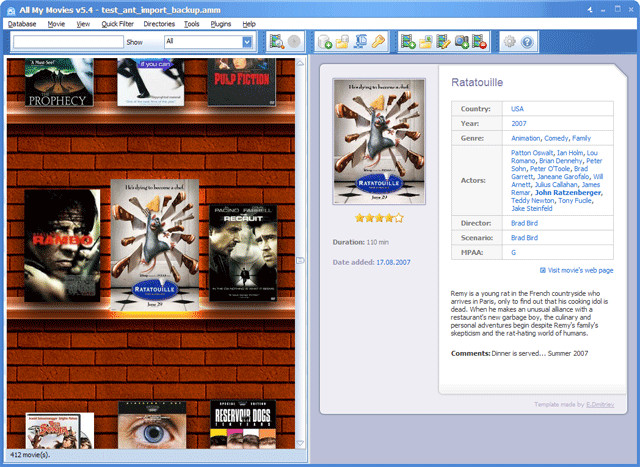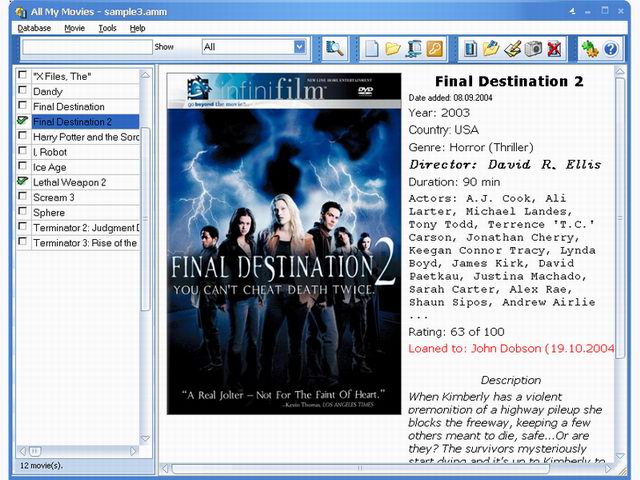 Main Features
– Easy movie details import from the different internet movie databases on different languages. Additional internet movie databases are supported with the plugins for All My Movies
– Extended cast details. Automatic lookup for actor photos, birthdays, filmography and biography.
– TV Series support. Auto filling episode title and descriptions.
– Ability to print collection using any existing report. Or you can create your own report with the built-in report editor.
– Ability to add DVDs using UPC/EAN barcodes. Just enter (or scan with a special scanner) barcode numbers and All My Moviesâ"¢ downloads all the rest of the information automatically. Cheap CueCat barcode scanners are fully supported.
– Large cover image and movie posters import from internet databases like Amazon.com and DVDEmpire.com
– Ability to save your collection to mobile devices like PDA or smartphone
– Supports DACAL DC-300 CD Library II device
– Ability to play movies directly from the program. Can be used as video playlister
– Third party plug-ins supported. There are plugins for movie details import from Ant Movie Catalog and MovieTrack software
– Import DVD catalog from other formats (CSV text format, MS Excel files, AMC files). Easy migrating
– Clear overview of your video inventory with nice collection statistics
– Skinnable user interface. You can use standard Windows XP themes as skins
– Capture stills directly from DVDs or AVI files and add them to the movie database to help you remember the movie.
– Fast movie search using any of the database fields – title, director, year, cast of movie, genre, description, movie synopsis, etc
– Export your video collection to PDF, HTML (several templates are available or you can create your own) , plain text or Microsoft Excel format, so you can place it on your home web page or import into some other software
– Password protect your movie database
– An easy way to share your movie database with friends. Impress them!
– MediaInfo.DLL support for reading technical details from video files
– Multilevel automatic backup option – you will never lose your collection!
– Easy to use loan manager
All My Movies has a 30-day trial period. It installs and uninstalls without issues.
Download from here.